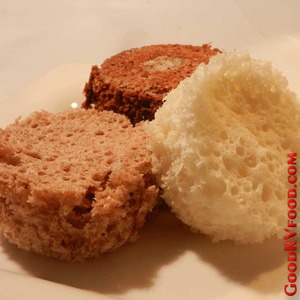 This surprisingly simple recipe came from a friend. It is perfect any time when you just want a little dessert without big leftovers!

The recipe is called 3-2-1 Cake because all you need to remember is:
3 Tablespoons mix
2 Tablespoons water
1 minute in the microwave!

Try various flavor combinations of cake mix but always remember that one of the cake mixes MUST be Angel Food. The other can be any flavor. Angel Food cake mix has the required egg whites to make this recipe work. So if anyone is allergic to egg whites skip this recipe just to stay safe.

The cakes can be cooked in almost any microwave safe container. The cake batter expands while cooking so use a container large enough to hold everything without overflowing. I find it works best in narrow container with a wide mouth like a coffee mug or small bowl. The personal sized cakes come out very light and fluffy.