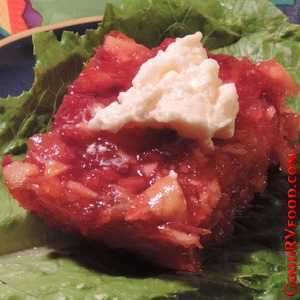 My mom made this salad every Thanksgiving and Christmas while I was growing up, but I like to make it all year. Frozen cranberries work well if fresh cranberries are not available, just rinse and chop them up while still frozen. At home I use a food processor but you can use a knife just as easily in the RV.

I have tried several different flavors of Jell-O and while all of them work, my favorites tend to be the red flavors like Cherry and Strawberry. Orange flavor Jell-O works too but I think the flavor was almost lost next to the real orange in this recipe.

The dollop of mayonnaise is the surprising part of this salad. Normally mayo and Jell-O are not considered complementary flavors but here it adds an interesting something extra. My friends make suggestions that maybe it is the creamy texture or the hint of salt that makes the mayo work so well here. Either way they all ask for seconds with another dollop of Mayo.