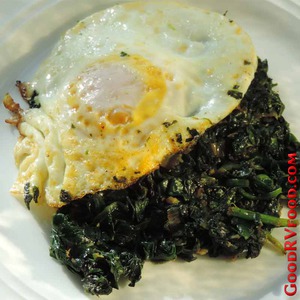 This is an adaptation of a recipe I found in New Mexico Magazine. I like that this dish is simple and easy to make in my small RV kitchen while also being full of flavor and a healthy choice for breakfast or any meal.

The original recipe called for lambsquarters, an edible weed that can be found growing wild almost anywhere except Hawaii, but I do not feel comfortable running around picking weeds from unknown places. So instead I used something easier to find in any grocery store or farm market. You can use any greens you want, fresh or frozen. Cook fresh greens appropriately for the type of greens before starting this recipe.

Poached eggs are very pretty on top of the greens but I usually just do my eggs the quick way and cook them over easy in the same pan I used to cook the greens. The recipe as written is not spicy at all. If you want more spice add more chile powder or offer a bottle of hot sauce on the side so each person can have exactly what they want.