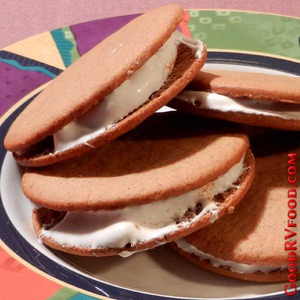 Whoopie pies are irresistible and I love sampling the local versions whenever I travel through the South and Midwest. The Ohio Amish make the absolute best Spiced Pumpkin and Vanilla Cream Cheese whoopie pie I have ever tasted, but I still find myself drawn to the traditional chocolate and marshmallow combination that I remember from my childhood.

This recipe is my take on making whoopie pies in the RV or campsite without any cooking or fuss using ingredients that don't need refrigeration. With a bag of cookies and a jar of marshmallow fluff I can make exactly the number of whoopie pies I want, even enough to share with friends.

Almost any kind of cookie works. The traditional chocolate cookie is my favorite, but be creative. Ginger snap cookies are pictured here. They are similar enough in flavor to remind me of the Amish pumpkin whoopie pie cookies.