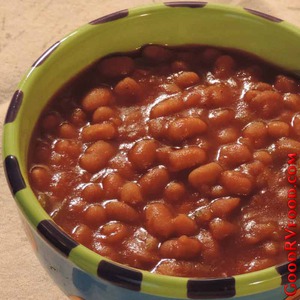 Every part of this country has a very distinct flavor permeating the culture of the people that live there. Some of these flavors are strong enough that just the mention of a single food item can invoke a flood of memories. Amish fried chicken, Maine lobster, New England clam chowder, Louisiana poboys, Texas BBQ, California fish tacos, Oregon fish and chips are all powerful reminders. Each brings up wonderful memories for me but there is one regional flavor that stands out above the rest in my mind.

The scent of roasting green chile instantly transports me to a cool fall New Mexico day. For a month or two each fall the smoky perfume of roasted green chile fills the air in New Mexico making everything a little more appetizing and flavorful. This is why I started adding a little green chile to my baked beans. The subtle smokey, spicy and fruity hints are a natural flavor combination with beans. When I bring these easy beans to pot lucks and parties everyone raves asking me what I did to make them so wonderful.

No one will know what makes these beans taste so good unless you tell them. The green chiles are the real magic. Fresh roasted or frozen green chiles are even better if you can get them or happen to be visiting New Mexico in the fall.