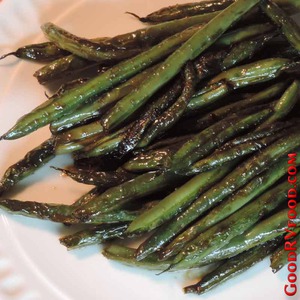 We love to visit Chinese buffets because we can get a large variety of flavors without ordering too many dishes. Many of them serve these delicious Asian style green beans with a sweet and salty garlic sauce. I finally decided to find a recipe to make them at home and this is the best one.

This is simple enough to make in the RV but special enough to serve guests at home. The green beans taste just like the restaurant version. The only problem is that I don't get to eat my favorite hot and sour soup and egg rolls because those are too hard to make in the RV with my limited pantry.

This recipe is easy to customize and expand. You can add some crushed red pepper flakes if you prefer your food on the spicy side like I do. You can also use this cooking method and sauce with almost any cooked green veggie such as broccoli. Adding sliced water chestnuts at the end of the cooking to just warm up a little adds a nice crunch.