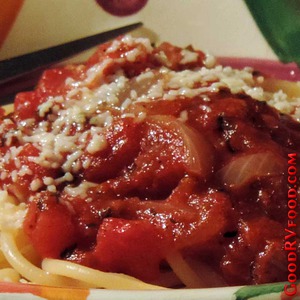 This is a super easy sauce to do on a cook top with one pan or skillet. It can be made in a pressure cooker, I use electric, by using your browning feature then adding ingredients in same order as stove top cooking. I love the flavor of sauce using fresh tomatoes, however, canned dice tomatoes can be substituted.

To be fair about canned tomatoes, there are also the dice tomatoes that are already seasoned and are pretty darned good to doctor up for sauces. I use an immersion blender for a smoother sauce, fresh or canned.

Although I have tried to be as accurate as possible on measurements, when I make it I use my palm to measure a small, medium or large palm full when measuring spices. This is how I came up with the measure spoon amounts. This recipe can be easily doubled or tripled depending on number of people serving.