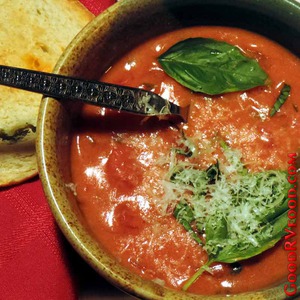 I like RV traveling in the cooler and more temperate parts of the year starting in September and going mostly through to May. This means summertime is when I am most likely to be at home so I like to plant salsa and salad ingredients in my garden. This year I had lots of fresh basil and was looking for interesting basil recipes. This recipe does not need much basil but it turns out really good even though it starts with canned soup.

Trader Joes just opened in the Denver area this year and I am still discovering all of their fresh foods that I never allowed myself to try while on the road. One of the happy surprises was their amazing buttermilk which is an important ingredient in this recipe. I almost listed their brand in the list but there are other brands that would work very nicely. For example the Brahms regional chain of dairy stores found throughout parts of Kansas, Oklahoma and Texas offers quality cultured buttermilk too.

Try this better than average tomato soup with a grilled cheese, tomato and basil sandwich.