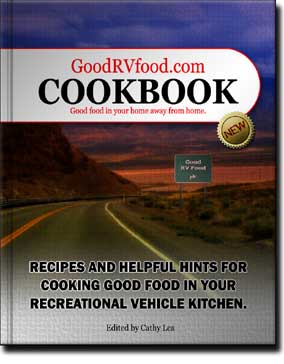 Our New Recipe eBook Is Here!
Do you want all of these great recipes and hints but don't have access to the Internet when you travel? The official GoodRVfood Cookbook has it all in one easy to use linked PDF. You are even encouraged to share this free cookbook with your friends and neighbors!

Get your FREE cookbook Send A Recipe Send A Hint
Hurry! Send your recipes, hints and tips today to get your name in the next cookbook.
Latest Additions
| | |
| --- | --- |
| New Recipes: | New Hints & Tips: |
Welcome to GoodRVfood!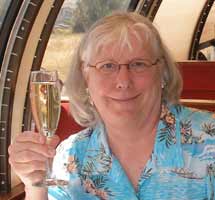 I'm Cathy Lea, editor, chief cook and bottle washer. I love to travel and love cooking good food. Finding recipes that fit the equipment in my small RV was more work than I thought it should be. So I decided to ask my camping friends for help. The GoodRVfood web site is dedicated to the art of preparing easy and delicious meals in the relatively small spaces of our recreational vehicles (RV), campers, boats and travel trailers. This site is populated with recipes, hints and suggestions from wonderful campers like you.
If you have a limited cooking space, you have come to the right place.
A big thanks to Kathy Huggins from the Living The RV Dream Podcast for mentioning GoodRVfood.com. I follow their wonderful podcast and recommend it highly to my RV friends.
New! Recipe Tags let you find recipes by major ingredient or preparation method.
We are affiliated with the Roadtrek chapter of the FMCA (Family Motor Coach Association). The Roadtrek chapter has an active mailing list (called the cyber rally) full of very knowledgeable and helpful people. Please visit their web site and let them know what you think.